LES 22, 23, 24 ET 29, 30 ET 31 MARS 2019
ESPACE GUILLAUME LE CONQUÉRANT
1530 rue de la Haie
---

---
VENDREDI 22 MARS – 20h30 ***COMPLET***
Fabien RUIZ, Michel PASTRES et le BIG BAND CHRISTIAN GARROS
La soirée sera placée sous le signe du cinéma muet avec la présence exceptionnelle du célèbre claquettiste Fabien RUIZ, chorégraphe et coach du film aux 5 Oscars « The Artist » ! Un véritable percussionniste connu dans le monde entier ! Il sera accompagné de l'un des plus fameux saxophonistes ténor français : Michel PASTRE, décoré du Prix Sidney Bechet de l'Académie du Jazz en 1999.
Les talentueux musiciens du BIG BAND CHRTISTIAN GARROS donneront le LA aux deux artistes.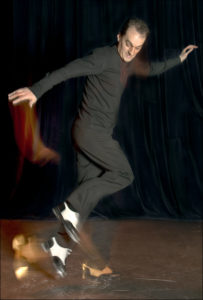 ---
SAMEDI 23 MARS – 20H30***COMPLET***
Créé par deux guitaristes canadiens, TCHA-BADJO c'est l'histoire d'un collectif de musiciens aux différentes nationalités et influences musicales, tous animés par une passion commune pour le jazz, plus particulièrement le jazz manouche et  le swing.
Reprenant les thèmes composés par Django Reinhardt, Tcha-Badjo y apporte des compositions originales inspirées par le style unique du gipsy jazz.
Charles Fréchette (guitare) / Damien Levasseur (guitare)  / Jean-Baptiste Guerrier (contrebasse) / Baiju Bhatt (violon)

---
DIMANCHE 24 MARS – 17h00***COMPLET***
L'ORCHESTRE DU GRAND TURC
Né dans la banlieue de Rouen, à l'aube des années 80, l'orchestre de 18 musiciens vous emmènera dans les années 1940 à une surprise partie zazoue chez Boris !
Un orchestre déchaîné, des Zazous anticonformistes dans tous les coins, pantalons et vestes mal assortis, cravates bariolées, cheveux gominés, bretelles vertes, …
En une vingtaine de chansons et textes historiques, revivez avec bonne humeur, humour, swing et poésie, parfois corrosive, les immortels refrains de Loulou Gasté, Francis Blanche, Henri Salvador, Alain Goraguer, Michel Legrand et Boris Vian. On parlera d'amours étranges, d'actualités cinématographiques, quand Betty fait boop, de militaires qui défilent, d'existentialisme, et de la statue de « Jean Sol Partre ».
Mise en scène : Francis Facon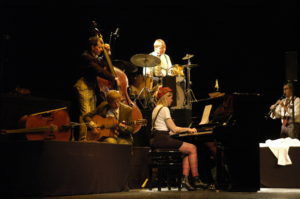 ---
VENDREDI 29 MARS – 20h30***COMPLET***
Des artistes tout droit venus des Etats-Unis animeront cette soirée dans une ambiance jazz intimiste et soul-blues.
Irene JALENTI, chanteuse américaine, d'origine italienne envoûtera la scène de son timbre profond, sa passion et sa créativité.
Puis Sol ROOTS, talentueux musicien américain, guitariste-chanteur soul à l'influence noire-américaine accompagnera le groupe de musiciens menés par Eric Preterre.
Composé pour l'occasion, le groupe franco-américain inédit réunira aussi Eric PRETERRE au saxophone, Bertrand COULOUME à la contrebasse et Kevin STRANGE à la batterie et Joshua ESPINOZA au piano (sous réserve).
En raison d'un problème administratif Irène Jalenti a dû annuler sa tournée européenne et ne pourra pas assurer la représentation de ce soir à l'espace Guillaume le Conquérant. La relève est assurée par la talentueuse Cécile Charbonnel et notre invitée surprise la chanteuse américaine Noëlle B.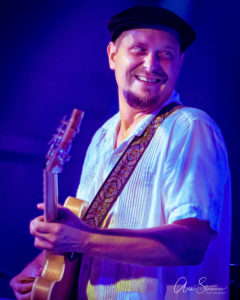 ---
SAMEDI 30 MARS – 20h30
François LAUDET quintet + one
François LAUDET, est aujourd'hui considéré comme le meilleur batteur swing français de sa génération. Avec son nouveau quintet, dans les rangs duquel on retrouve quelques-uns des meilleurs jeunes musiciens de la scène parisienne, ils rendront hommage à Gene Krupa, le véritable « père de la batterie moderne ».
François Laudet (batterie) / Malo Mazurie (trompette) / Esaie Cid (saxophone) / Pablo Campos (piano) / Cédric Caillaud (contrebasse) / Marie-Elisabeth FLOQUET (chant).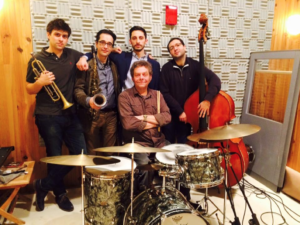 ---
DIMANCHE 31 MARS – 17h00***COMPLET***
BIG BAND CHRISTIAN GARROS AND FRIENDS
Les 16 musiciens du Big Band normand invitent, pour la clôture du festival, leurs amis musiciens, de talentueux invités, pour un spectacle d'une rythmique à couper le souffle.
André VILLEGER, sax tenor dont on reconnait dans la musique l'influence de Sidney Bechet et des grands de l'époque Swing. Il a joué aux cotés des plus grands tels que Claude Bolling, Bill Coleman, Lionel Hampton, Ray Charles, Dee Dee Bridgewater, Winton Marsalis et bien d'autres musiciens.
Fabien MARY, en 2000, tout juste âgé de 22 ans, ce prodigue trompettiste entre dans le Paris Jazz Big Band. À 23, il créé son propre quartet, un an plus tard, son premier disque sera récompensé par un Django d'or Jeune Talent.
En 2004, il reçoit le prix Jazz a Juan Revelationpuis s'installe à New York. De retour à Paris avec un jazz inspiré de ses nombreuses collaborations avec les plus grands, il apportera une touche unique au festival.
François LAUDET, à la batterie, est l'un des drummers les plus fins et les plus efficaces de l'hexagone.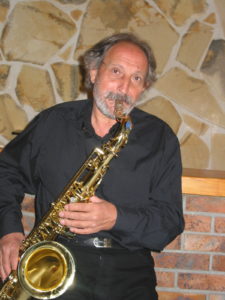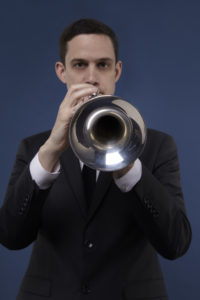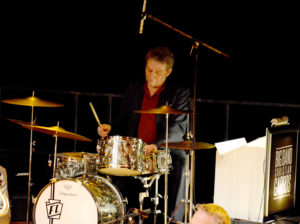 ---

Espace Guillaume le Conquérant, 1530 rue de la Haie
Renseignements au 02 35 12 24 55.